​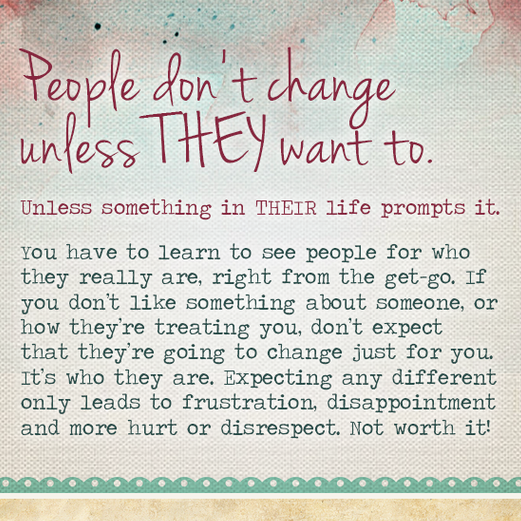 People don't change unless they want to. Unless something in their life prompts it. You have to learn to see people for who they really are, right from the get-go.

If you don't like something about someone, or how they're treating you, don't expect that they're going to change just for you. It's who they are

.

Expecting any different only leads to frustration, disappointment and more hurt or disrespect.

Not worth it!
There aren't many things in life that aren't possible, but one of them is that people who don't want to change can't be helped to be changed by us. There are many in our lives that we know that seem to be willingly undertaken by life and its circumstances. We must all learn that though there are those in our lives who we feel aren't getting everything out of life that they possibly can, and are living nowhere near to where they may potentially be, there is nothing that we can do for these people if they don't want change within themselves.
The best way for us to help these people is to try to live as an example of what following your heart can do. Though there are many who need help in ways that we can't help them,

we can still help by sending our prayers and positive thoughts their way as much as possible.

We must also be willing to let go of those who are inevitably headed towards destruction, because if that is what they desire in their hearts, there is truly nothing that we can do to change them, they must first want change in their own hearts.